What is tooth whitening?
Tooth Whitening is one of the easiest ways to boost the brilliance of your smile. At King West Dentistry having white teeth is the top priority of most patients in cosmetic dental work.
There are two main methods used in teeth whitening:
In our King West Dentistry offices in Toronto or North York In your own home
A very important point to remember when considering teeth whitening is that it can only be done on the natural tooth enamel. This means you will not get the procedure if you have crowns or old fillings in place. The fillings may have to be removed before whitening and then be replaced. That way you will get the same color on all your teeth. If you need work done on any of your teeth, you should inform our King West Dentistry dentists before the bleaching procedure.
Another crucial point to remember is that tooth whitening is not a permanent fix. Your teeth may still get stained within a few years. A touch-up is thus needed every couple of years to maintain the bright white color. The risk of your teeth being discolored is more if you do the following:
Drink wine
Drink tea
Drink coffee
Smoke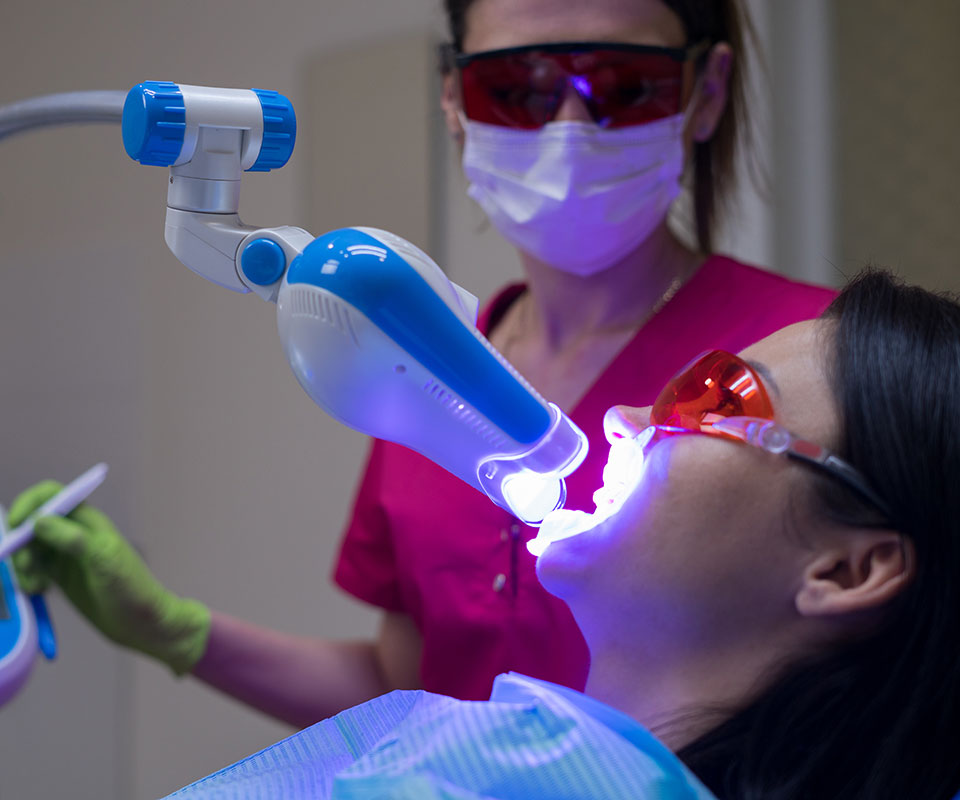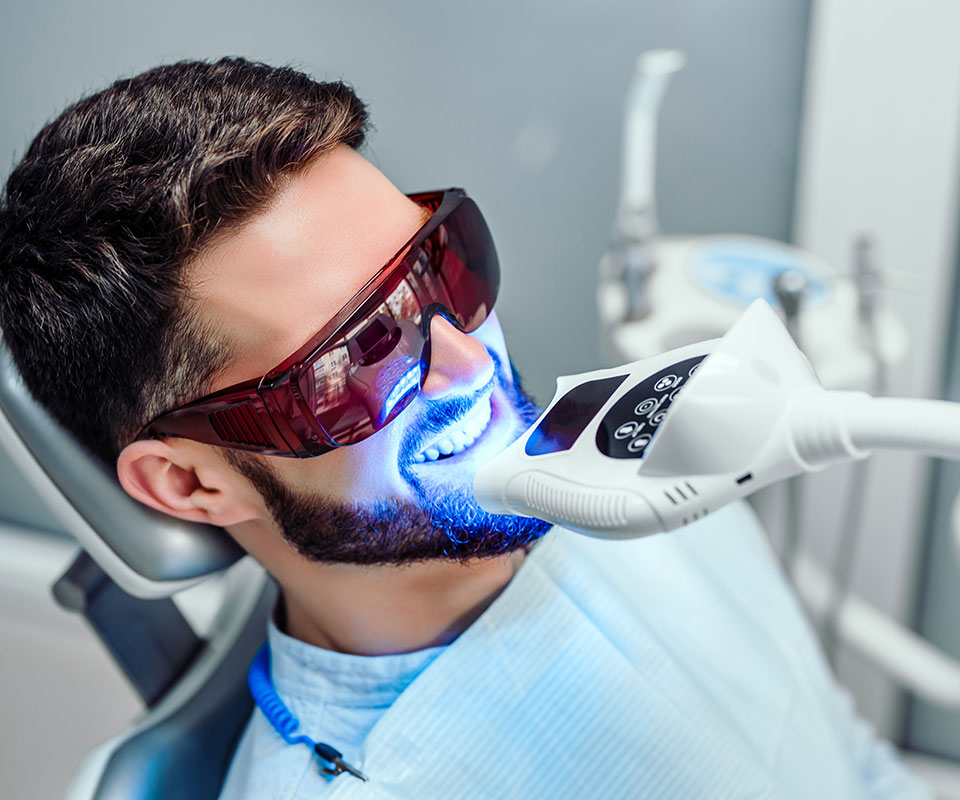 Why should I whiten my teeth?
There are many reasons why patients choose to whiten teeth. The main reasons include the following:
Fluorosis (excessive fluoridation during tooth development – see our page about fluoride for more information)
Stained teeth as a result of using certain medications like tetracycline
Brown or yellow stained teeth
Normal wear of the tooth outer layer
To boost self-confidence
To look good for graduation, wedding and other special events
How does the whitening process work?
King West Dentistry uses the Iveri Whitening System. This is an in-office system that takes 1 to 2 sessions each lasting 20 minutes. For the best results, we combine this system with cleaning appointments. We will give you a dual-arch tray that you take home for the touch-ups and maintenance. Our tray is a one-size-fits-all which means no impressions of your mouth will be needed.
Why our patients love the iveri whitening system
To enhance and accelerate the process, King West Dentistry uses red and blue LED technology. This technology further enhances gingival health without uncomfortable heat. The treatment also comes with extra strength (36% carbamide peroxide and 6% hydrogen peroxide) and regular strength (36% carbamide peroxide) gel options. It also contains potassium nitrate and xylitol which helps eliminate sensitivity as well as minimize dehydration.
Our other Iveri Whitening System products include the at-home whitening kits (16%, 22%, 35% carbamide peroxide and 8%, 14% hydrogen peroxide). There is also the Iveri Anywhere Whitening Pen which contains 35% carbamide peroxide).
Short 20 minutes sessions with reduced preparation and chair time. It is convenient for a busy lifestyle.
Regular strength in-office whitening which includes a Vitamin E oil
The soft, flexible one-size-fits-all whitening tray that can be used at home and is easy to operate and encompasses the entire arch of the mouth. It is also not messy since the gel doesn't leak out the edges of the tray.
Virtually painless
At King West Dentistry we are always eager to hear from you and offer the help you need. Book an appointment below!
Book Appointment