What are Digital Intra Oral X-rays?
Gone are the days when the images of your teeth were drawn out of film X-rays which had to be processed using chemicals. Dentists could only share findings with others by printing the images and mailing them to the other party. This process takes time. Digital dental radiography has changed all this. Instead of using the film, digital X-rays have electronic sensors which take images, store them in a computer where they can be viewed immediately by the dentist in the clinic or shared with someone far away. Digital X-rays emit extremely low levels of radiation which makes them a safer and more efficient option compared to the traditional X-rays. They are able to provide dentists with all the answers they need on the spot so they are extremely valuable tools in diagnosis and treatment of dental issues that would have easily gone undetected.
Digital intra oral X-rays can be used to diagnose the following issues:
Tooth decay
Cysts and abscesses
Bone loss
Tumours
Issues below the gum line or within a tooth
Poor root and tooth positions
Developmental abnormalities
When dental issues are identified and treated early, you have a better chance of getting a successful outcome. You also save time and money and avoid unnecessary pain if a dental problem is diagnosed and treated early.
Are dental X-rays safe?
Every day we are constantly exposed to natural radiation. This goes to show that radiation doesn't kill or harm you instantly. To be harmed by radiation, you must have been exposed repeatedly over a prolonged period. Radiation can also be harmful if you are exposed to an extremely high dose all at once. Digital dental X-rays utilize the best technology to avoid all these scenarios. The equipment is not only quick and comfortable but also guarantees safety and efficiency.
These digital x-rays expose patients to very low levels of radiation. However, at our dental clinic, we make every effort to ensure patient exposure is as low as possible. Our dentists will only recommend an X-ray when it's necessary. We give our patients a protective lead apron which helps to promote safety during the X-ray procedure.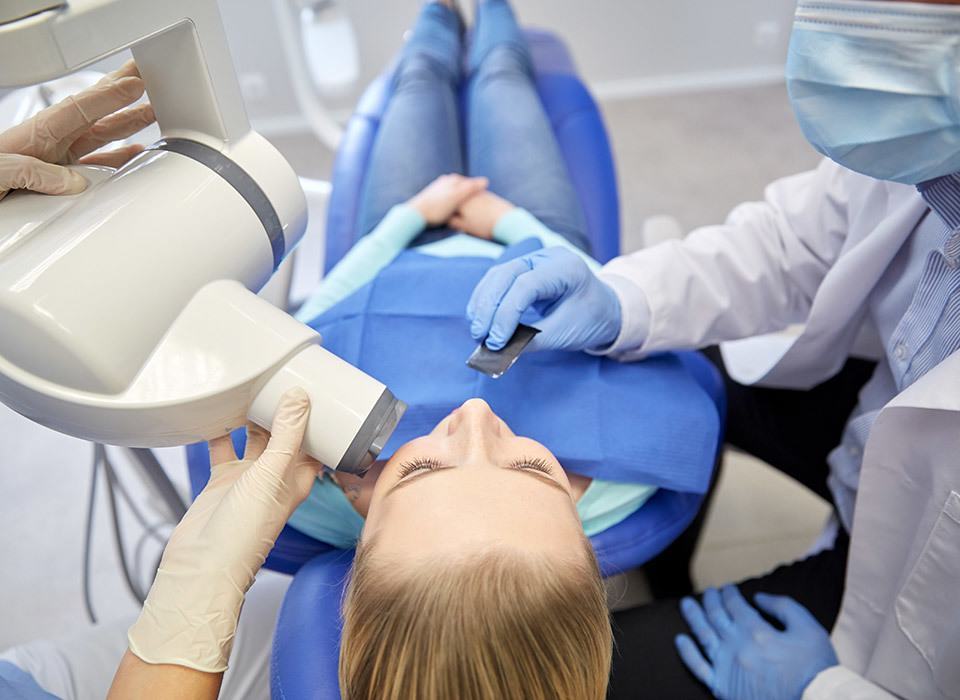 How often are dental X-rays required?
When you visit your dentist, he/she will advise on whether you require an X-ray. Every patient is different and that's why the need for an X-ray will vary. Our dentist will take time to review your dental history and perform a physical exam to identify possible signs and symptoms before deciding to take an X-ray. Factors such as your age and dental history will determine if an X-ray is necessary.
If you are a new patient, the dentist may decide to take a full mouth series of X-rays in order to have a detailed scope of what your oral health situation is like. This X-ray is only done 3 to 5 years so make sure you bring your records if you're visiting a new dental clinic within a short period.
Bite-wing X-rays are the most commonly taken in regular dental appointments. The X-ray is done by biting the top and bottom teeth together to allow the dentist to identify oral health issues and diagnose a new condition that may have popped up. Digital X-rays are preferred more than traditional films because they are not only quicker but more efficient to use and provide superior imaging capabilities.
Types and uses of digital X-rays
The two main types of digital X-rays used in dentistry are intraoral and extraoral X-rays. Intraoral X-rays are taken inside the mouth whereas the extraoral X-rays are taken outside the mouth. Intraoral X-rays are often preferred by dentists because they are able to view the teeth in detail and monitor tooth development as well as bone health. Dentists also use intraoral X-rays to look for cavities. However, there are cases where extraoral X-rays are most preferred for instance when the patient is showing signs of TMJ, impacted teeth or jaw growth. Dentists use extraoral X-rays to also analyze the interaction between the teeth and jaws.
Techniques used in digital intraoral X-rays
Bitewing X-rays: To take this, X-ray patients are required to bite down on film for the X-ray to capture both the top and bottom teeth in a section of the mouth. Dentists can see each tooth from the top to bottom with this X-ray. This procedure helps to identify decay in between teeth as well as changes in bone density which are often caused by periodontal disease. This X-ray is also often used when the dentist wants to determine the fit of a dental restoration or assessing dental fillings.
Periapical X-rays
When the dentist requires an image of the entire tooth from the crown all the way to the tips of the root and jawbone area, he/she may take a periapical X-ray. This X-ray is used to have a detailed view of the root structure and look out for bone abnormalities. It's easy for the dentist to identify bone loss around the tooth using a periapical X-ray. It's ideal prior to treating issues like endodontic lesions, abscesses, and advanced gum disease.
The benefits of digital dental radiography:
Dentists can view concealed areas of decay in between the teeth or underneath existing fillings.
Dentists can have a close look at signs of cysts, bone infections, gum disease, and tumours or any dental abnormalities that cannot be seen with a naked eye.
Images can be accessed easily and quickly by other dentists or technicians.
Images can be viewed instantly on the computer screen and even blown up to see the affected areas in detail.
Digital radiography uses 50-80% less radiation compared to film X-rays
The systems come with advanced digital manipulation features that make it easy for dentists to add color and sharpness in their restorations.
Chemical processing is not needed when using digital X-rays. These systems are safer, more efficient and easier to use than the traditional film X-rays.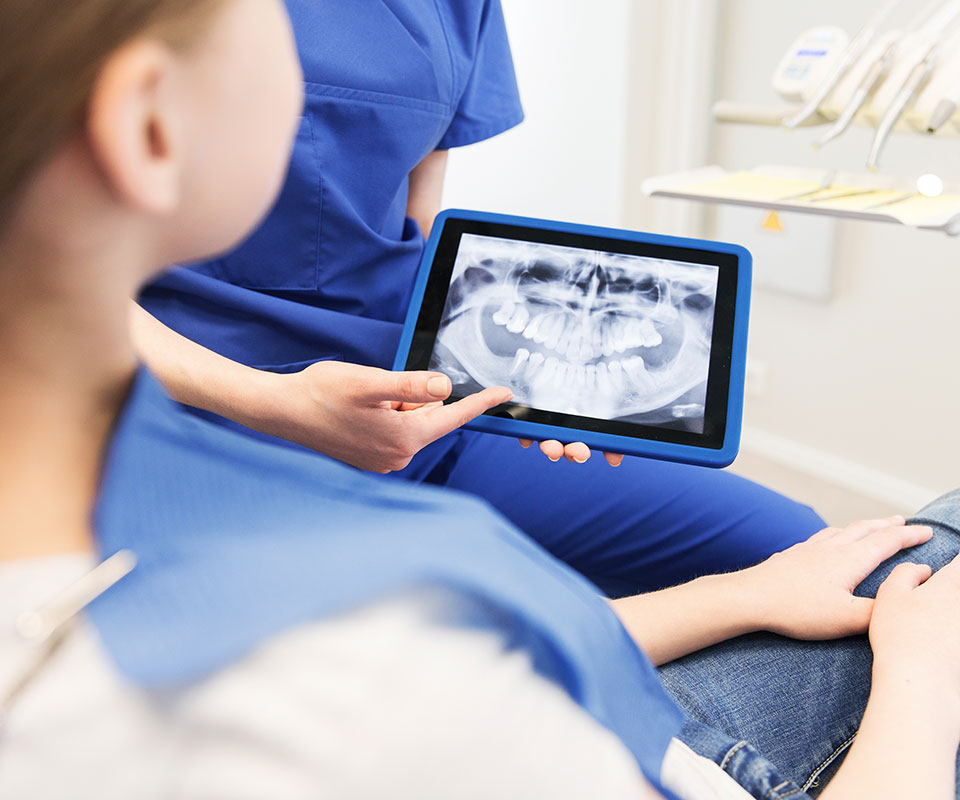 At King West Dentistry we are always eager to hear from you and offer the help you need. Book an appointment below!
Book Appointment