Complete Dentures
These dentures are often used for older patients or someone who's suffered serious dental trauma and is missing all teeth. Complete dentures come in two varieties: conventional and immediate.
Conventional dentures: These dentures are made once the patient's teeth have been removed and the mouth has recovered. The patient will have to stay with no teeth for about 4 to 6 weeks until the gum heals.
Immediate dentures: These dentures are created specifically for the patient in advance as their teeth are being removed. This ensures that the patient doesn't have to stay with no teeth while the mouth heals. The only drawback is that the patient's dentures may have to be adjusted when the gum tissues shrink and heal.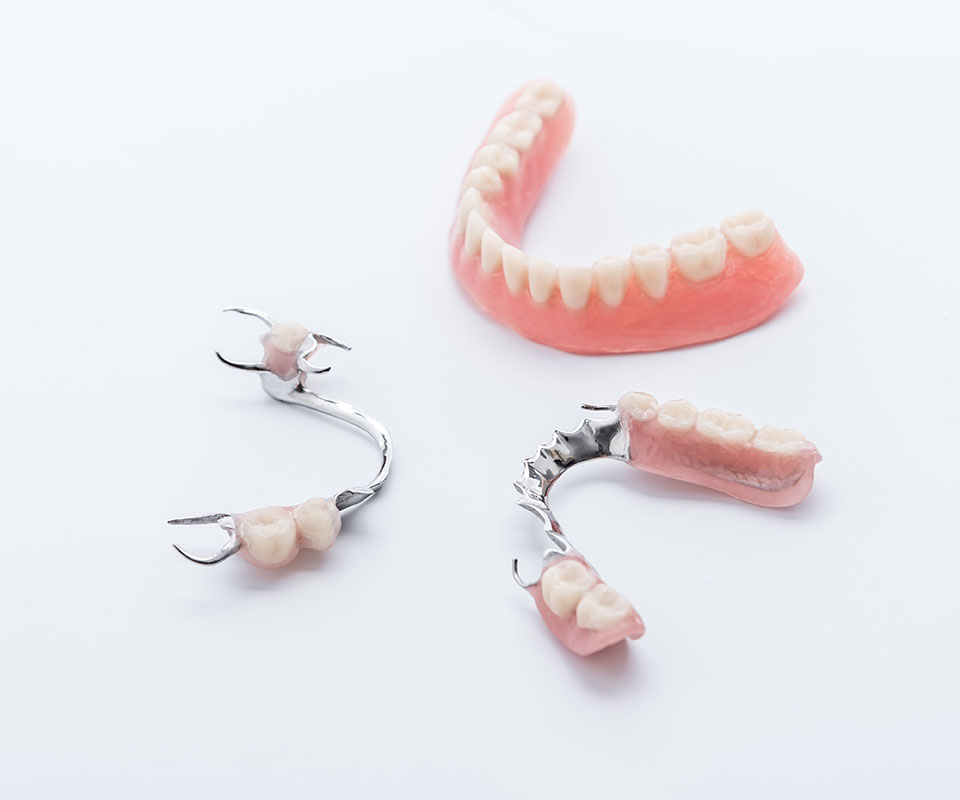 Partial dentures
If the patient is missing several teeth but not all of them, partial dentures are used to replace the missing teeth. They help to prevent the remaining natural teeth from shifting out of place.
Dentures are meant to replace natural teeth. That's why they're designed to be very strong and long-lasting. They are also prone to normal wear and tear. Your dental clinic may also repair, readjust or remake the dentures over time.
Reasons for getting dentures
Some patients have lost all their teeth on the upper or lower jaw. This kind of tooth loss can be caused by severe infection or injury. If this is the case, they'll need complete dentures to regain their smile and teeth function.
Dentures can also be used when speaking or chewing is a problem because of missing teeth. Without having the complete set of teeth, communicating can be a problem because the tongue cannot form properly in relation to the teeth as it is supposed to. Tooth loss can also affect digestion because it limits the person's ability to properly chew food. One may struggle to chew and feel embarrassed especially in public situations where other people may notice. Since the food isn't being broken down properly, digestion problems may arise.
Missing teeth can significantly affect the appearance of a face. When someone is missing several teeth, their facial structure can be greatly compromised. Dentures will help to improve the patient's smile and facial structure. Patients who seek this form of treatment feel a renewed confidence knowing that they've taken steps to improve their overall appearance. That's why dental treatments like dentures are said to have a positive psychological impact on the patient.
The process of getting dentures
Dentures take time to create and this isn't because it's a complex process but it's because they must be customized to suit the patient's need. You'll need to go for several appointments which are spread out over the course of several weeks to get the ideal outcome. The dentist will make molds of your mouth and take the necessary measurements to ensure that the dentures fit perfectly in the patient's mouth and have the correct dimensions. The patient will then be required to test the dentures by trying them out just to ensure they fit the desired shape, color and fit. Be ready to go for several appointments but it's well worth it if, in the long run, you'll get the perfect set of dentures. The final step in the process involves the dentist performing adjustments to ensure that the patient is comfortable and feels natural when wearing the dentures.
It's normal for patients to feel soreness or a slobbery effect after wearing the dentures for the first time. After getting used to missing teeth for a long time, it's normal to feel unusual when wearing dentures. The body's tissues and muscles begin to adjust, and the symptoms are likely to subside with time. This will soon become your 'new normal'.
Before you leave the dental clinic, the dentist will share special instructions on how to take care of your set of dentures. You need to follow these instructions if you want these removable dental appliances to last for a long time. Consider proper oral hygiene to take good care of your dentures and remember proper cleaning and regular check-ups are still important.
At King West Dentistry we are always eager to hear from you and offer the help you need. Book an appointment below!
Book Appointment