What is Teeth Whitening?
Teeth Whitening is one of the easiest ways to boost the brilliance of your smile. At King West Dentistry having white teeth is the top priority of most patients in cosmetic dental work.
There are two main methods used in teeth whitening:
At our King West Dentistry offices in Toronto and North York or In your own home
A very important point to remember when considering teeth whitening is that it can only be done on the natural tooth enamel. This means you cannot get the procedure if you have crowns or old fillings in place. The fillings may have to be removed before whitening and then be replaced. That way you will get the same color on all your teeth. If you need work done on any of your teeth, you should inform our King West Dentistry dentists before the bleaching procedure.
Another crucial point to remember is that teeth whitening is not a permanent fix. Your teeth may still get stained within a few years. A touch-up is thus needed every couple of years to maintain the bright white color. The risk of your teeth being discolored is more if you do the following:
Drink wine
Drink tea
Drink coffee
Smoke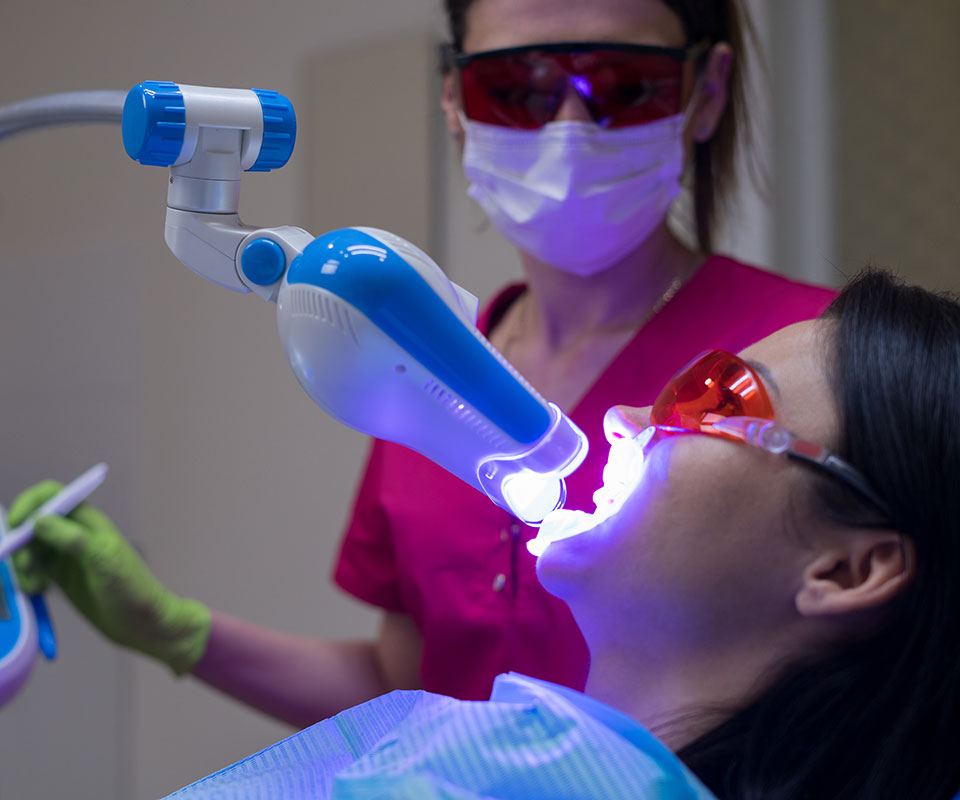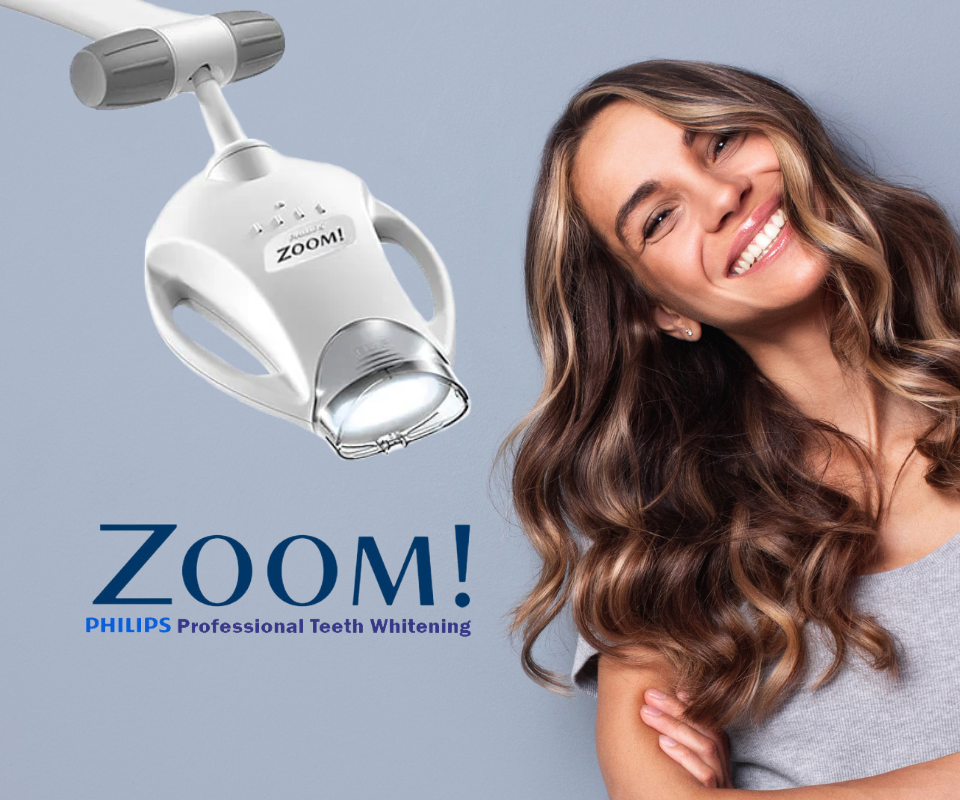 Why should I whiten my teeth?
There are many reasons why patients choose to whiten teeth. The main reasons include the following:
Fluorosis (excessive fluoridation during tooth development – see our page about fluoride for more information)
Stained teeth as a result of using certain medications like tetracycline
Brown or yellow stained teeth
Normal wear of the tooth outer layer
To boost self-confidence
To look good for graduation, wedding and other special events
Philips Zoom Whitespeed LED light
We are proud to offer Zoom Teeth Whitening at King West Dentistry, provided by Phillips.
This is the latest technology available in teeth whitening. An in-office procedure using our advanced technology LED light combined with 25% hydrogen peroxide gel to achieve results of up to 8 shades whiter in as little as 45 minutes chair time (excluding prep time)
A full Zoom Whitespeed procedure consists of 3-4 intervals of 15 minutes in the chair, plus customised whitening trays and a home kit.
Contact us
to learn more about our new patient offer and get $200 off Zoom Teeth Whitening!
How does the whitening process work at our King West dental office?
As with any dental procedure, there are things to discuss before you set foot in the treatment room. For Phillips Zoom Whitening, one of our dentists at King West dentistry will need to determine if you are a candidate, and if you will benefit from the procedure. Your current overall health, dental health and dental hygiene practices will need to be evaluated.
We will also need to discuss your other dental health plans. If you are considering having restorative work done, such as veneers, crowns, or composite bonding, we would suggest to do these procedures first before doing Zoom Whitening. This is to make sure the shade of your restoration will match the natural shade of your teeth.
We may recommend that you have a dental hygiene appointment with us so that your teeth are polished and prepared before starting your Zoom Whitening procedure.
Take advantage of our offer for New Patients! Get $200 off ZOOM Teeth Whitening (Originally $500)
Your Zoom Whitening treatment begins with precautionary measures:
To protect the rest of your mouth, we cover your lips and gums so that only your teeth are exposed.
Next, the Zoom Whitening hydrogen peroxide gel is applied to your teeth and then the Zoom light will works its magic. The two work together to blast away even the toughest stains.
For a total of three to four 15 minute intervals, the gel and Zoom light will work on removing stains and reveal your beautiful white teeth. You're welcome to read, watch TV, or simply relax during this time.
Once 45-60 minutes has passed, we will combat any heightened teeth irritability with a sensitivity-reducing fluoride paste
One the procedure is complete, our King West dental team will send you on your way with customized whitening trays and take-home kit!
At King West Dentistry we are always eager to hear from you and offer the help you need. Book an appointment below!
Book Appointment